Senate Confirms Del Toro as Secretary of the Navy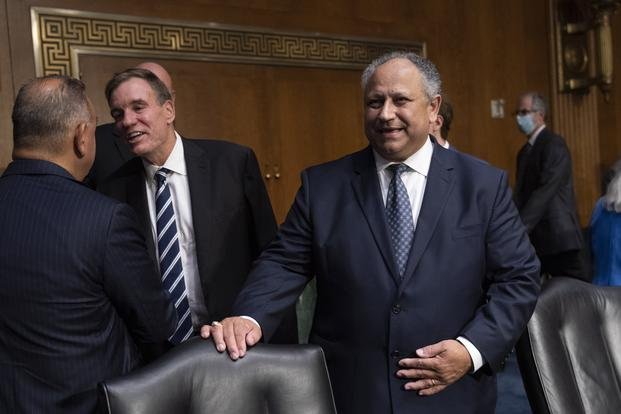 The U.S. Senate on Saturday confirmed Carlos Del Toro as the next secretary of the Navy, ending months without a confirmed nominee in the service's top leadership post.
Del Toro, who will replace Acting Navy Secretary Thomas Harker, was confirmed by voice vote. Harker has been leading the Navy for just over 200 days since Jan. 20, the first day of the Biden administration.
Del Toro is a former Navy officer and ship commander who was a CEO of an engineering and consulting firm until his confirmation.
During his confirmation hearing, Del Toro emphasized the significance China will play in future Navy strategy, as well as budgetary and shipbuilding challenges.
"If confirmed, I'm going to be exclusively focused on the China threat and exclusively focused on moving our maritime strategy forward in order to protect Taiwan and all of our national security interests in the Indo-Pacific theater," Del Toro told Congress on July 13.
"We can no longer take U.S. naval superiority for granted," he warned in his opening remarks.
He added that the "Navy/Marine Corps team will need additional resources to be able to fully meet the combat effectiveness we will need."
The remarks came amid some congressional criticism that the proposed Navy's 2022 budget proposal funds research and development of projects such as a hypersonic missile over shipbuilding efforts.
Del Toro's confirmation also comes at a tumultuous time for the Navy's leadership. Former President Donald Trump's first secretary of the Navy, Richard V. Spencer, was fired in November 2019 over his handling of the case of former Navy SEAL Eddie Gallagher.
Gallagher was accused by service members of war crimes during a tumultuous deployment to Iraq in 2017. He ultimately was acquitted at court-martial on most charges but found guilty of posing for a photo with a prisoner's corpse. Gallagher was demoted, but Trump restored his rank and he was allowed to retire honorably.
Spencer described Trump's involvement in the case as "a shocking and unprecedented intervention" in a Washington Post editorial he wrote after his ouster.
Spencer was succeeded by Thomas Modly, who served as acting Navy secretary for a little over 100 days before resigning over a firestorm of events stemming from his firing of an aircraft carrier commanding officer who warned superiors of a growing COVID-19 crisis on his ship.
Army Undersecretary James McPherson, a prior-enlisted soldier and retired Navy lawyer, took over the job for just under two months until Kenneth Braithwaite was confirmed by the Senate in May 2020. Braithwaite saw the Navy through the end of the Trump administration.
Harker, Del Toro's predecessor, has been in the acting secretary role for just over 200 days -- one of the longest periods since the position was created in 1949.
Defense Secretary Lloyd Austin said in a statement released Sunday, "Carlos Del Toro's lifelong pursuits and deep experience advancing America's national security make him well-prepared to serve as the 78th Secretary of the Navy.
"We remain the preeminent force in the world because of leaders like Carlos," he added, "and I have no doubt our Navy and our nation will be well served."
Military.com reached out to the Navy for details on when Del Toro will be sworn in but did not immediately receive a reply.
-- Konstantin Toropin can be reached at konstantin.toropin@military.com. Follow him on Twitter @ktoropin.
Read the full article here.