Leadership
The Hispanic Veterans Leadership Alliance (HVLA) is a growing consortium of military veterans, civil servants, national organizations and congressional supporters with a shared mission:  to advance the inclusion of Hispanics at all leadership levels across the DoD.

Any person holding or having held a regular or reserve commission, any regular or reserve warrant officer, or enlistment of the United States Armed Forces, or any person retired as such shall be eligible for regular membership. In addition, members of the civil service including Senior Executive Service personnel are eligible for membership.  Following is our leadership:
BRIGADIER GENERAL RICARDO APONTE, US AIR FORCE (RETIRED)
President
Brig. Gen. Ricardo "Rico" Aponte retired as the Director for Innovation and Experimentation, U.S. Southern Command, Miami, Fla. The general is a native of San Juan, Puerto Rico. He graduated from the University of Puerto Rico and received his commission through the ROTC program. He has operationally flown the F-111F/D, 02-A and AT-38 aircraft. He also served at Howard Air Force Base, Panama, as a branch chief, division chief and Deputy Director for Latin American Affairs. General Aponte joined the Air Force Reserve in 1990 and was assigned to the Deputy Chief of Staff for Air and Space Operations Western Hemisphere Division in the Pentagon. In 1992, he was selected by the U.S. Air Force Air Demonstration Squadron, the Thunderbirds, as the Spanish language narrator for their Latin America Tour.
In 2000, he was selected by the Assistant Secretary of Defense- Force Management Policy to Chair a newly established Defense Advisory Council for Hispanic Issues (DACHI). The council added members from both the military and civilian sectors of the Department with the purpose of assisting DoD to recruit, develop, and retain qualified civilian employees and military members. He held that position until 2001.
He was later assigned as a mobilization assistant to the Office of the Air Force Reserve where he led transformation efforts. After 9/11, the general was also a tiger team member in response to frequent mobilization and demobilization issues resulting from operations Enduring Freedom and Noble Eagle, and he oversaw the deployment of 25,000 individual Reservists. Prior to his last assignment, he was Deputy Director of Operations for the U.S. Southern Command, Miami, FL. During the national response to instability in Haiti in 2004, General Aponte led the command response to the crisis and established international coalition operations between the United States and four partner countries.
In civilian life he was a United Airlines pilot for 24 years where he rose to the rank of Captain. He is rated in the Airbus 320, Boeing 777 and 747. After retirement he started a new career as a military historian.
BRIGADIER GENERAL CARLOS E. MARTÍNEZ, US AIR FORCE RESERVE (RETIRED)
Vice President
Brigadier General Carlos E. "Charlie" Martínez was born in Havana, Cuba and grew up in Miami, Florida. He graduated from the University of Miami in 1971 with a B.S. in Systems Analysis. Upon graduation, he entered the Air Force to become a pilot. Following officer and flight training in Texas, he was assigned to Andrews Air Force Base, Maryland, where he flew VIP missions.
In 1976, he was selected to attend graduate school and earned an M.S. in Operations Research from The George Washington University in 1978. He subsequently served tours as a management engineer and as a missile test engineer. Upon separating from active duty in 1981, Gen Martínez began a second career in the Washington, DC area where he has worked in private industry on a variety of analytical, and information systems projects in support of the U.S. Government. During this time, he continued a parallel career in the Air Force Reserve where he served as an operations research analyst and as an acquisition officer in a variety of assignments in the Boston, MA, Dayton, OH, and Washington, DC areas. As a Reservist, he rose to the rank of Brigadier General and immediately following the 9/11 attacks served a nine-month tour of active duty in the Pentagon helping support the Global War on Terror and subsequently served as the Mobilization Assistant to the Air Force's Chief of Warfighting Integration until his retirement from the Air Force in 2006.
Gen Martínez joined the MITRE Corporation in 2002 where he has led numerous analytical efforts for a variety of government agencies. Among these have been projects for the Departments of Defense, Commerce, Treasury, and Homeland Security. He also spent several years providing analytical support to the Third Branch of government, the U.S. Courts. Most recently, he has been supporting the Federal Aviation Administration meet a variety of challenges, most recently related to the integration of unmanned aircraft systems (UAS) into the national airspace. In his private life, Gen Martínez is a licensed and active instructor pilot.
COLONEL EDWARD CABRERA, US AIR FORCE (RETIRED)
CFO
Prior to his current Program Manager position at the Jet Propulsion Laboratory, Eddie was a senior program manager at Lockheed Martin Skunk Works. As a program manager, he led a classified portfolio of advanced technology programs where he helped deliver game-changing capabilities enhancing America's national security strategy.
As an Air Force Colonel, he served as the Vice Commander of the 46th Test Wing, a world-class group of 4,000 experts conducting Conventional Weapons, Electronic Warfare and Command & Control development and testing. He managed an annual budget of $480M and unique range infrastructure valued at $12.5B.
During his military career, Eddie served as a combat-proven F-16 fighter pilot and experimental test pilot. He has nearly 4,000 hours in 65 different aircraft types. As a test pilot, he led the Joint Strike Fighter Test Force at Edwards AFB, CA and Patuxent River, MD, which set world records for X-aircraft testing in the X-32 and X-35 concept demonstrators (the X-35 subsequently won the national Collier Trophy). He was the Air Force's sole X-32 test pilot and became the only Air Force pilot in history to fly both the X-32 and F-22 Raptor. He earned 4 national-level awards for his contributions leading the nation's most advanced aircraft development programs.
Eddie is a 1982 graduate from the United States Air Force Academy, where he earned a BS in Astronautical Engineering. He also holds an MS in Mechanical Engineering from California State University-Fresno, an MA in Strategic Studies from the Air University, and an MBA from Pepperdine University. He is a distinguished graduate of the U.S. Air Force Test Pilot School.
THE HONORABLE ALFREDO SANDOVAL
Legislative Liaison
From 2012-2017, Alfredo Sandoval served as Chairman of the U.S. Air Force Academy Board of Visitors, a position that was appointed to him by the President and nominated by the Speaker of the House. As chairperson, he directs the board in providing independent advice and recommendations on matters relating to the Air Force Academy, such as the morale, discipline, curriculum, instruction, physical equipment, fiscal affairs, and academic methods.
Sandoval also recently served as Chairman for the U.S. Air Force Academy's Diversity Advisory Panel, consulting senior leadership on diversity recruiting, retention and accessions. He is a recipient of AFA's Outstanding Diversity Officer award. As an Air Liaison Officer, he mentored scores of candidates to become cadets, and later officers. Mr. Sandoval also serves as the chairman of the Congressional Nomination Committee for California Congressman Raul Ruiz. During his career, he has helped many congressional members and their staff improve their nomination processes.
Sandoval is a managing partner of the Private Investment Group, which focuses on portfolio management and wealth transfer. He is a former Senior Vice President at Merrill Lynch and a co-founder of Creosote Partners, bringing real estate development and renewable energy projects to tribal reservation lands in the Coachella Valley, Calif.
A 1982 graduate from the United States Air Force Academy, Sandoval earned a Master of Finance and a Masters of Marketing degree from Wright State University. He is a graduate of the Air Force's Air Command and Staff and Air War Colleges, and holds an International Relations certificate from the University of Pennsylvania - Wharton School.
Board of Directors
BRIGADIER GENERAL JOSEPH MEDINA, US MARINE CORPS (RET)
Chairman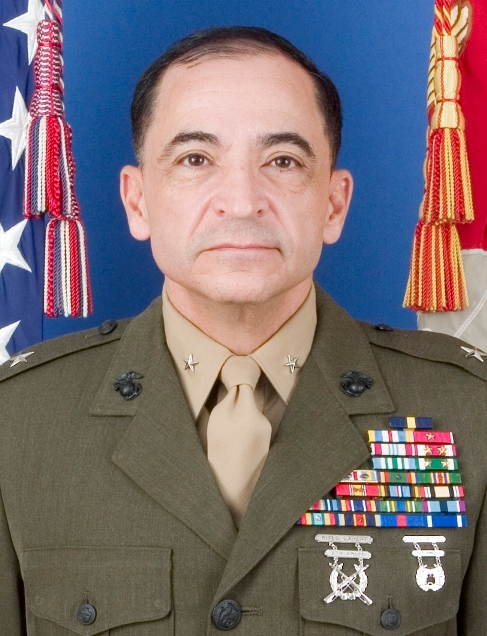 Brig Gen Medina graduated from the US Naval Academy and was commissioned a 2nd Lt in the United States Marine Corps. He later earned a Master of Science degree in Systems Management from the University of Southern California.
As a Marine he held command at every level from platoon, multiple company commands, battalion commander, and Regimental Commander of 3rd Marines. He also served as Associate Professor at Penn State University and Chief of Operational Plans at European Command where he led the planning effort for operations in Bosnia and Kosovo (Operations Noble Anvil, Allied Force, and Joint Guardian).
Upon promotion to Brigadier General, he oversaw the ground-up development of a new organization, Expeditionary Strike Group THREE (ESG3). He led the Strike Group during a combat deployment for Operation Iraqi Freedom where he was dual assigned as Commander Task Force 58 with the mission to "locate, disrupt and defeat terrorists and foreign fighters." He had operational or tactical control of multiple amphibious ships, an Aegis Cruiser, two Destroyers, multiple Coast Guard vessels, UK and AUS ships, and two Marine Expeditionary Units. As such, he was the first Marine Corps General to lead a Naval Task Force with operational control over ships. Following this assignment, he served as the Commander of all Marine Corps bases in Japan, and later served as Commanding General 3rd Marine Expeditionary Brigade and Deputy Commanding General III MEF based in Okinawa, Japan.
Upon entering the private sector, he led engineering services for two major companies. He established service centers in India and China and oversaw several multi-million dollar field service projects in the Middle East, Asia, and the United States. Currently based in Houston, he is a Fellow of the American College of National Security Leaders and chairs the Indo-Pacific Committee. Among multiple national recognition received was inclusion by Complex Media as one of "10 Hispanic Icons That Made a Significant Cultural Impact".
MAJOR GENERAL ABEL BARRIENTES, US AIR FORCE (RETIRED)
Director
Prior to retiring in 2018, Maj. Gen. Abel Barrientes served as Mobilization Assistant to the Deputy Commander, Pacific Air Forces, Joint Base Pearl Harbor-Hickam, Hawaii. The command consists of three numbered Air Forces located throughout the Pacific with responsibilities for the Air Force activities spread over half the globe. The command supports more than 45,000 Air Force personnel consisting of active duty, Air Guard and Reserve, servicing principally in Hawaii, Alaska, Guam, Japan and South Korea.
A native of San Antonio, General Barrientes was commissioned in 1982 after graduating from the U.S. Air Force Academy. He flew the T-39, C-21 and C-5 before being released from active duty in 1989. General Barrientes then entered the Air Force Reserve unit program at Travis Air Force Base, California, flying the C-5. He has held command positions at the squadron, wing and numbered Air Force levels. The general was mobilized for operations Desert Shield and Desert Storm in 1990, and for operations Enduring Freedom and Iraqi Freedom in 2003. In 2006, he was deployed as the Senior Military Advisor to the Iraqi Air Force.
General Barrientes is a command pilot with more than 5,700 hours of military flight time. In his civilian capacity, he is employed as a commercial airline captain with more than 11,000 hours of civilian flying time.
COLONEL LISA "LA CORONELA" CARRINGTON FIRMIN, US AIR FORCE (RET)
Director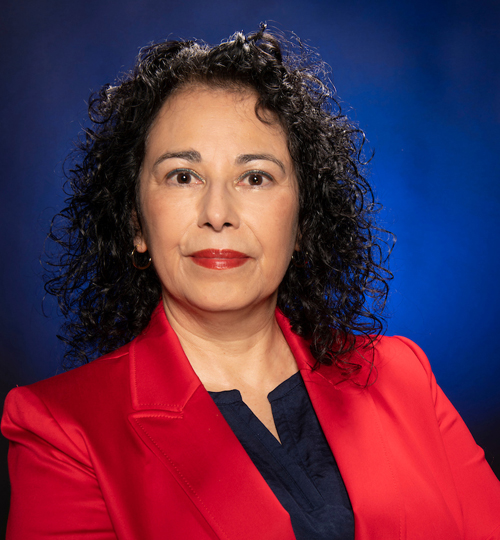 Colonel Lisa "La Coronela" Carrington Firmin retired as the Air Force's most senior ranking Latina officer in 2010. She led many organizations within the Air Force at various levels to include serving in USSTRATCOM, at the Pentagon and as a squadron and group commander. She is a combat veteran, served in the Sunni Triangle of Iraq and is a Bronze Star recipient. La Coronela is the Military Liaison for the University of Texas at San Antonio where she founded the UTSA Top Scholar program, the Office of Veteran and Military Affairs and the Center for Military Affiliated Students.

A published author and keynote, she has written and presented on Leadership, Transitions, Veteran Culture, Diversity/Inclusion and Military Sexual Trauma and consults in these same areas as the Founder and CEO of Carrington Firmin LLC. She has received numerous awards and honors such as United States Hispanic Chamber of Commerce National Latina Leader award, the Governor of Texas' Yellow Rose award, Texas A&M University – Kingsville Distinguished Alumni Award and the National Diversity Council's Trailblazer and Most Powerful and Influential Women in Texas awards. La Coronela serves on several boards such as the Secretary of Veterans Affairs Advisory Committee on Minority Veterans, Veterans Healthy Minds Advisory Council – South Texas and the Texas A&M University-Kingsville Foundation Board of Trustees.
REAR ADMIRAL WILLIAM RODRIGUEZ, US NAVY (RETIRED)
Director
Upon graduation from The Citadel in May 1977 with a Bachelor's Degree in Mathematics and Computer Science, Rear Admiral Rodriguez was commissioned an Ensign through the NROTC Scholarship Program. He spent five years at sea as a Surface Warfare Officer before attending the Naval Postgraduate School from 1982 to 1984, receiving a Master of Science Degree in Systems Technology. While at the Naval Postgraduate School, he was selected for lateral transfer to the Engineering Duty Officer Community.
For the next 25 years, he served in a number of Engineering Duty Officer tours of duty included Supervisor of Shipbuilding, Conversion and Repair, Long Beach, California; USS Midway (CV 41); Space and Naval Warfare Systems Command; and Naval Sea Systems Command.
His command tours include Officer-In-Charge of the Naval Command, Control and Ocean Surveillance Center, In-Service Engineering, East Coast Division, Norfolk Detachment; and Program Manager for the Naval Electronic Combat Surveillance Systems - the Maritime Cryptologic Systems, and the Navy Command and Control Systems.
Upon selection to Flag Rank in March 2004, Rear Admiral Rodriguez was assigned as the Chief Engineer for the Space and Naval Warfare Systems Command. He also served as Acting Commander for SPAWARSYSCOM and Program Executive Officer for Enterprise Information Services.
Since his military retirement in 2008, he held various senior executive level positions with a number of organizations, including the National President of the Association of Naval Services Officers.
COLONEL JAMES (JIM) SAENZ, US ARMY SPECIAL FORCES (RETIRED)
Director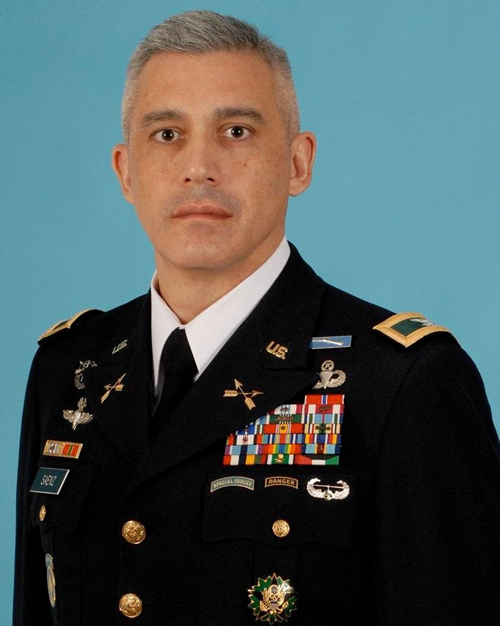 Colonel James (Jim) Saenz is a Chicano from California, born and raised just outside East Los Angeles. The son of working class Mexican-American parents, he and his brother were the first ones in the family to attend four-year universities. Colonel Saenz graduated from the United States Military Academy at West Point in 1987 and was commissioned as an officer in the Corps of Engineers. In 1992, he completed qualification training and transferred to Special Forces. Colonel Saenz served in a variety of assignments throughout the world and commanded at all levels, from Detachment to Brigade. Notably, he commanded two separate Special Forces detachments (A-Teams), the full-accounting mission in Vietnam, and the Army's largest overseas garrison in Germany. Colonel Saenz's operational experience includes Operation Desert Shield and Operation Desert Storm; numerous counternarcotics missions in South and Central America; several disaster relief efforts in Central America; Operation Enduring Freedom; and multiple Global War on Terror activities at home and abroad.
He is a graduate of the Engineer Officer Basic Course, the Infantry Officer Advanced Course, the Special Forces Detachment Officer Qualification Course (distinguished honor graduate), the U.S. Army Ranger Course (distinguished honor graduate), the Command and General Staff Officers Course, the Joint and Combined Warfighting School, the Industrial College of the Armed Forces, and Senior Executive Programs at the Harvard Kennedy School of Government and at the Kansas University School of Business. Colonel Saenz retired from active duty in 2017 and now works in the Washington DC area. He holds two masters degrees, speaks Spanish, and volunteers throughout his community. An advocate for Latino and veteran causes, he works with several non-profit advocacy organizations, including as the Executive Director, Hispanic Veterans Leadership Alliance (HVLA) and as the Board Secretary, Latinos in Transit (LIT). Colonel Saenz currently lives in Arlington, Virginia with his wife, Leslie, and their two sons.